Wine tourism of Vojvodina
On the northern slopes of Fruška Gora Mount, on the very riverbank of the Danube, Banoštor – a lovely village visited by the lovers of good wines – lies. Due to the reflection of the Sun from the surface of the river, vine matures earlier here and bears sweeter grapes, so wine producers take pride in not only the traditional white wine, but exceptional red ones as well, of Fruška Gora.  
Sremski Karlovci town, with its twenty or so wine cellars open for visitors, is inscribed with golden letters on the wine map of the wine-growing hills of Fruška Gora. In this region, however, there are yet other, less heard-of places that are becoming a serious competitor to the famous town of Karlovci when their wine quality and tourism offer are concerned. Banoštor is one of such places we have recently visited. Wine is produced literally in every house of this ancient settlement of Srem, situated in the immediate vicinity of the city of Novi Sad, and tourists and those knowledgeable of wine may visit four cellars: Quet, Šijački, Stojković and Urošević wineries.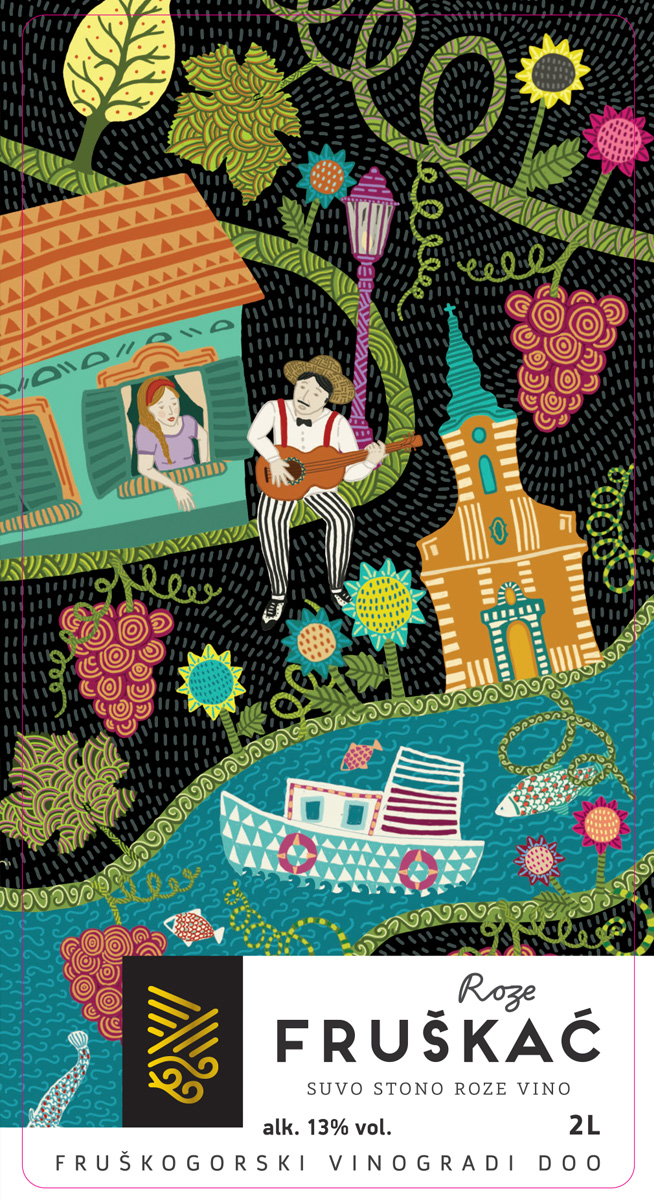 Wine fortress
The "Serbian Wine Renaissance" of the more recent time has mainly been successful due to family-owned wineries' efforts, and bigger and technologically sophisticated wineries such as the Vineyards of Fruška Gora enterprise, which has in its possession impressively big vineyards in Banoštor, have emerged on that wave of the renaissance of the neglected wine culture. Apart from domestic experts, their vineyards and wines are also taken care of by Rolland Conseils et Prestation, a French prestigious consultancy firm.
The Vineyards of Fruška Gora has several production lines, their business philosophy being best represented by a premium series of wine, Quet, named after the fortress that used to exist here in the Celtic time, and later in the Roman time, too. They say their goal is to make Banoštor a fortress in which modern wine production will be developed and where wines will be "conquering the palates" of wine lovers throughout the world.
Passionate enologist and the Vineyard Jedi
Our hosts Jelena and Ivan are at the forefront of the Vineyards of Fruška Gora. These two close associates – Jelena is an enologist and Ivan is a wine-grower – made a true effort to reveal to us where and how their wines are made. We headed for the vineyards on a tractor, down a road passing through the immaculate vine "espaliers". At the highest "level", with a panoramic view of the Danube, a hay-barn was built, intended for one to have a short break and degust wines. Jelena poured one glass after another from her "magical box" of wine samples, passionately speaking about the different tastes she has carefully been creating. To our question: what is characteristic for this winegrowing region, she says: "We've got three Suns – the real Sun, the twinkling silicate soil, and the reflection of light from the river. In spite of the ingrained opinion, I do assert that it is exactly this climate that makes our Merlot tastier than any other produced more southwards. We also have Pinot Noir of an exquisite taste. People are slowly starting to perceive all the beauty of the red wines of the North." Ivan, our other host, is a quiet man, who, due to the nature of his job, speaks to the vine plants more frequently than people, but to our question how he manages to look after the plantations of such a large size on his own, he answers with a smile on his face: "My colleagues call me the Jedi of vineyards."
Let it surprise you
Drinking a just-poured-full glass of Merlot stored in a barrique – the wine being one amongst those the winery is proud of – we proceed with our conversation about the wines they produce and those they intend to produce. "We're just working on a premium wine series, which will bear the name of The Three Suns. Beside our already known Quet, intended for sophisticated wine enjoyers, we've also thought out white, red and rose Fruškać, with an idea to offer good table wine for daily use at acceptable prices. Fruškać is promoted under the slogan 'Just Let It Surprise You'. We're specially proud of our sweet wine, too, produced from the late harvest-picking traminac variety of grapes. Only we, enologists, know how delicate the production of this wine is. It, however, was worth doing so since it's brought us many prestigious awards," says our female collocutor.
The wine family tree
On our wine tour of Banoštor, we also arranged for a visit to Šijački Winery, where we were welcomed by Ivana, the mother of two little boys, with a degree in enology. We are sitting in the degustation room in a spacious yard next to the riverbank of the Danube. Ivana says to us that, apart from their wines, exactly this yard is their main "ace card". "We've got the guests who've been coming repeatedly for generations now, and we sell our wines locally. We rely on the tradition started by our great-grandfather far back into the past, whereas our grandmother Ljubica, who's now in her nineties, is most deserving for the survival of our vineyards. We've got a broad assortment of our wines, and tourists are most interested in the original varieties like Neoplanta and Seduša." We are now visiting an underground passage, too, where Ivana is showing us the labels with the stylized images of all the members of her family lineage, particularly prioritizing the Aldumaš wine – the Italian Riesling they make following their grandfather's recipe. She says that aldumash is the word denoting a toast made on occasions when, on the occasion of a successfully ended work, friends are invited to a celebration.
Stojković cellar and Atos Koruška
We are also visiting Stojković Winery located in the village center. We are welcomed by Jovan Stojković, who's showing us the cellar built as early as in 1912. Stojković Winery is also family-owned – the largest portion of the work is born by Jovan's son and daughter-in-law, whereas the "PR of the Cellar" is Jovan's mother, who, although in her advanced years, still has a beautiful cheerful mind and is knowledgeable of the winegrowing craft. Apart from the five sorts of wine, the Stojković family also offer tourists their homemade food of Srem and accommodation as well.
In search for a good fish cuisine, which is also characteristic for this region, upon our Banoštor hosts' recommendation, we are now heading for the nearby weekend settlement Atos Koruška and the restaurant-belvedere of the same name. The terrace of this impeccably arranged restaurant offers an extraordinary view of the Danube and the wine list exclusively including the wine of this region and the menu offering us exactly what we are looking for: the Danube fish, the homemade bread of Srem, cheeses, etc. We are also being introduced to the women owner, venturous Vidanka Adamović, who has turned her family weekend house into a small, comfortable tourist complex. She has revealed to us that she herself also produces small series of wines, which are sufficient to satisfy the needs of her guests and her family.
We are leaving amazed and determined to convey the experiences we have gained on this journey to both our readers and all of our personal friends.
Text by Milena Mihaljčić
Photo by Rozana Sazdić