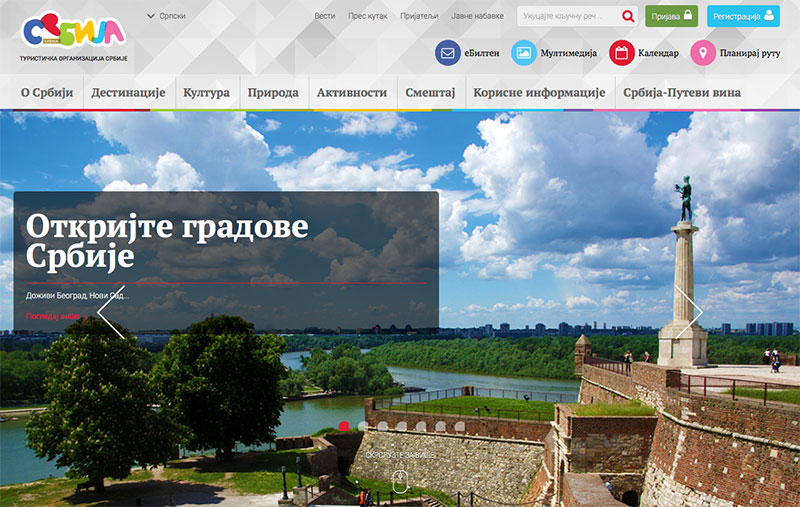 National Tourism
Organisation of Serbia
NTOS is a government organisation which promotes and improves tourism in the Republic of Serbia in both the domestic and foreign tourism markets. NTOS activities focus on positioning Serbian tourism on the domestic and international markets and evaluating the advantages of Serbia with respect to tourism, such as the country's geographical location and historical, cultural and natural identity.
Tourist Organisation
of the City of Novi Sad
The capital city of Autonomous Province of Vojvodina is a pearl amongst the Serbian cities. It is also called the Serbian Athens, the Danube River Gibraltar, European Youth Capital 2019, European Capital of Culture 2021 ad the city of EXIT Festival. Easy-going and surrounded by fertile lowland, Fruška Mountain and the Danube Novi Sad is a "must visit" city.
Tourist Organisation
of the City of Niš
Niš, the capital of southeast Serbia, is famous for its southerners' spirit, good entertainment, Nisville Jazz Festival, delicous food… The city is located on the map of precious ancient heritage and is known as the hometown of Emperor Constantine the Great. The heart of the old city, with the Fortress and Coppersmith's Alley, are just some of the must-see points for explorers of the city.
Provincial Secretariat for
Economy and Tourism
Among main tasks of Vojvodina  provincial administration in the field of economic and regional development is a goal to remodel it into one of the leading European tourism regions. The long-term "Program of the Development of Tourism of AP of Vojvodina" is a new strategic document with wide range methodology of creation new, attractive tourist products.