Hidden Beauties of Belgrade
We are taking you to three small city galleries: the 1250° Gallery, the Wunderkammer and the Blatobran (Fender), established by young artists. Instead of looking for a place to exhibit in, they created the exhibiting space to fit them.
One who wants to do something will find a way; one who doesn't will find an excuse – said Picasso. Despite the fact that there are a plethora of excuses, these talented and determined young people succeeded in reconciling their dreams and their business. They had a nice idea and were sufficiently strong to persevere with it, too. They created three corners in which they, as well as any accidental or intentional guest, would be feeling well. "You know, when you're walking down the streets of some coastal place, and come across a small tucked-away gallery", tells us Jelena Vukadinović of the Wunderkammer, "well, it's exactly that intimate atmosphere we wanted to convey to our visitors." And they did. Whoever appears at the door of some of these three galleries will surely find him-/herself unaware of being in the center of a big, hasty city.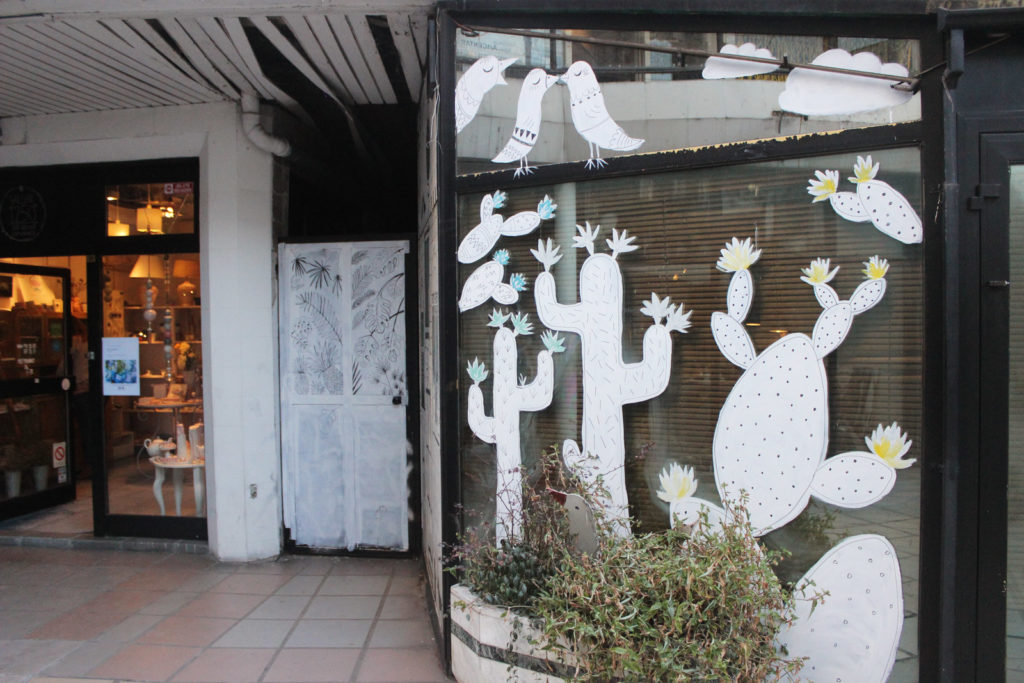 1250° Gallery
Although in the strictest center of the city, Čumićevo Sokače (Čumić's Alley) had for long been a forgotten city corner. The Belgrade Design District breathed a new life into it in 2010, whereas it truly flourished a few years ago, when the 1250-degree Gallery, the first Belgrade gallery dedicated first of all to ceramics, moved in it.
It was established by the joint efforts of Iva Brkić, Miona Stefanović, Bojana Jokmanović, Ivana Špoljarić, Marija Seman, and Igor Stangliczky – ceramicists by education, but also masters, entrepreneurs, merchants, advertisers… depending on the business need. They found a space, delegated the obligations, did rough works, then the subtle finesses, filled it with unique versatile and decorative ceramics: plates, cups, teapots, bowls, vases, lamps, jewelry, sculptures, etc. and named it after the temperature at which clay is slowly baked: 1250 degrees.
More often than not, they go beyond the thematic framework and, apart from ceramics in various forms, this gallery also exhibits, say, Iva's and Miona's sea watercolors, Maša Zorić's "Cheerful Instruction for Life" or greeting cards of dried flowers from the Samonikle (Autochthonous) Botanical Workshop. They arranged their space and the environment, as well: they initiated the repair of the Čumić Fountain, installed a "flying" installation above it, on which, depending on the occasion, birds, brooms, and airplanes alternately appear, drew every white wall and empty window, having hanged all around the small flags and garlands remained over after the gallery's birthday party or, now already traditional New Year's tombola.
Wunderkammer
A double festivity took place in Čumić on Sept. 13th: the 1250-Degree Gallery celebrated its fifth birthday, and ten and a half paces farther, a new gallery – the Wunderkammer, the mutual dream of the scenographer Tamara Branković and art historian Jelena Vukadinović – opened.
They suddenly heard of a perfect space in an artistic neighborhood. Quick-witted and skillful, they themselves arranged it from beginning to end, filled it with plants and vintage pieces of furniture, brought together young artists in good standing, exhibited paintings, photographs, antiquities, ceramics, dolls… a little bit of everything, thus getting a real Wunderkammer (a cabinet of miracles or rarities).
Not one single exhibit in this gallery is here by mere chance. Every such exhibit has an interesting background story due to which we can categorize it into rarities. There is, for example, a 4-cup set originating from the first industry porcelain factory in Yugoslavia, Heuchler's graphic on a porcelain plate, a "Dragička" ("Good News") doll transforming into a mermaid, Milica Dukić's embroidery on the canvas, which can be viewed both from the face and from the back side…
Antiquarian ceramics has a special place in the gallery. Jelena used to work at the Ceramics Department of the Applied Arts Museum, so she paid particular attention to that artistic expression. "This is a set done by Vim Mühlendyck, a famous ceramicist from Western Germany. It dates back in the 1960s and is characterized by the ornaments in the cobalt blue colo," she explains, one exhibit after another. Apart from the authentic sets, there are also the sets fitted in by Jelena and Tamara themselves – according to the color, the form, or the ornaments.
The Wunderkammer is a perfect place for one to get lost in details, reveal new artists, chat about art and start thinking about creating one's personal cabinet of rarities. Let the first object be from this gallery!
Blatobran
We are now relocating from Čumić to Dorćol, but we are still adhering to the thematic background. Blatobran is yet another gallery specialized in ceramics, whose singularity reflects in its numerous members exhibiting there and the unexpected diversity within the same artistic field.
Blatobran is run by Julia Draškoci, Jovana Čavorović, Minja Djurdjević, Bojana Ristevski, Lana Tikveša, Ana Jakić Jevtović, Tatjana Paradjanin, Nemanja Nikolić, Aleksandar Vac and Marija Milin. Each one of the ten of them differently approaches ceramics, so one can see porcelain, maiolica, stoneware, terra sigillata, then objects with glaze, gilding, diverse visual art processing, in combination with other materials…in the gallery. "Ceramics is a very broad notion, encompassing all from pottery to porcelain. The people here don't know much about artistic ceramics. When a mention is made of ceramics, they usually think of a porcelain set. We're glad when curious customers come, so we've got an opportunity to educate them a little bit," says Marija Milin. There is always an artist in the gallery because they consider that, apart from the time spent in the atelier, an encounter with a customer is also very important.
As an artistic association, Blatobran has been existing since 2007, whereas the gallery was opened in 2015, in one of the most beautiful Belgrade streets – at 38 Gospodar Jevremova Str. "All was initiated out of a frustration – where were we to exhibit! Once an occasion appeared, we were not completely satisfied with the conditions. So, we came to the idea to establish our own gallery, where we would have the space and freedom to exhibit the works the way we ourselves considered it to be the best," explains Marija. And satisfaction is contagious. If they like it, anyone walking into the gallery will like it, too.
Text and photo: Dragana Barjaktarević