Soulfood
Serbian gastronomy is built of special tastes and scents. It is specific for the Serbs to welcome their guests with unleavened round cake and salt, sweet and water, and a little glass of plum brandy, a favorite national drink. The typical dishes and hors-d'oeuvres are corn bread, kaymak dairy spread, white cheese, Serbian baked beans and dried meat; sour cabbage rolls in the winter and small green vegetable rolls served with sour milk in the spring are the delicatessens of the seasons. Serbia is a country of plums, which are "a must" on the table in variations: jams, solid jams and cakes.
Depending on the region, one can enjoy the dishes of the Serbian, as well as Hungarian, Slovak, Bačka-Croatian, oriental… cuisines. The gastronomical features of Serbia have been presented in the recently published book entitled "52 Tastes of Serbia", published by the Tourism Organization of Serbia. In the pages to follow, part of our country's rich culinary offer is presented.
Culinary symbols of Vojvodina
The fertile land of Vojvodina is the synonym for abundance. There are two separate culinary worlds there: the "fishermen's" and "farmers'". The fishermen's world is near the rivers, and the farmers' is scattered throughout the lowlands. The cuisine is a mosaic of the influences of numerous nations, blended into one by the uniform culture of "slow lunching".
Lunch in Bačka
The dishes served for lunch are the culmination of the culinary skills of Bačka region. Soup is served first, then follow the boiled meat and vegetables from the soup, topped with sauce. In the next "act" of lunching, stews, followed by various roast meats with a cherry sauce are served. Lunch obligatorily ends with a dessert.
Fish Stew with Noodles
The czardas by the Danube, the Tisa and other rivers in Vojvodina are the places where cooks compete in making fish stew served with broad handmade noodles. Variations are endless, and a special sort of hot red pepper is the "magical" ingredient.
Kulen Flavored Sausage of Srem and Wines of Fruška Gora Mount
Flavored sausage kulen, made of pork and bacon, smoked and air-dried, fermenting for months, is one of the delicatessens of Srem. Sausages and salamis of Srem are also famous. Meat cuts are good to eat with light white wines of Fruška Gora Mount: Gewürztraminer, Riesling of the Rhine, Italian Riesling…
Ham of Banat and Wines of Vršac
The most famous delicacies of Banat are smoked ham and bacon. One of the gastronomical centers is in Vršac Town – the center of the famous winegrowing area. Ham and other dishes of Banat are excellent to eat with a Banat Riesling spritzer.
Bermet Dessert Wine and Kuglóf cake
Sremski Karlovci is the center of the Fruška gora wine-growing area. The "Bermet" dessert wine with medicinal and pot herbs is the best-known. Kuglóf cake, brought to the town by German immigrants, is another recognizable specialty. Chocolate Kuglóf cake is served with black wines and coffee, and the yellow – with white wines and tea.
Tastes of Šumadija and Morava river regions
In the heart of Serbia, there are two winegrowing regions – Šumadija and Župa, where highest-quality Serbian wines originate from. Beside wines, plum brandy, different roast meats, cheese pies, pies etc. are also served on the table, together with an abundance of vegetables from the garden of the Morava River region.
Cheese Pie
An extremely tasty pie richly stuffed with cheese and kaymak dairy spread is the trademark of this region's gastronomy. It is made at ethno-restaurants and village tourism households, and served as an hors-d'oeuvre.
Tea of Šumadija
The winter is the time when hot brandy, better-known as the "tea of Šumadija" is consumed. It's boiled soft plum brandy, water and caramelized sugar. It's served with sour cabbage salads, pickled vegetables and jellies.
Karadjordje's Steak
Karadjordje's Steak was for the first time made at Vožd Restaurant – the culinary icon of Topola, only to subsequently become a pan-national specialty. The steak is stuffed with kaymak dariy spread and dried meat and then fried.
Roast Turkey and Roze Wine of Jagodina
Jagodina town is famous for its turkey dishes: turkey on baked sour cabbage, smoked turkey, turkey broth…Jagodina Rose Wine is the most famous wine of this climate.
Roast Pork and Tamjanika Wine
Roast pork is a trademark of Serbian gastronomy. Some of the best roast meats are served in Trstenik, Vrnjačka Banja Spa, Kruševac…Freshly roasted meat is well matched by Župa's wines – especially white aromatic Tamjanika wine.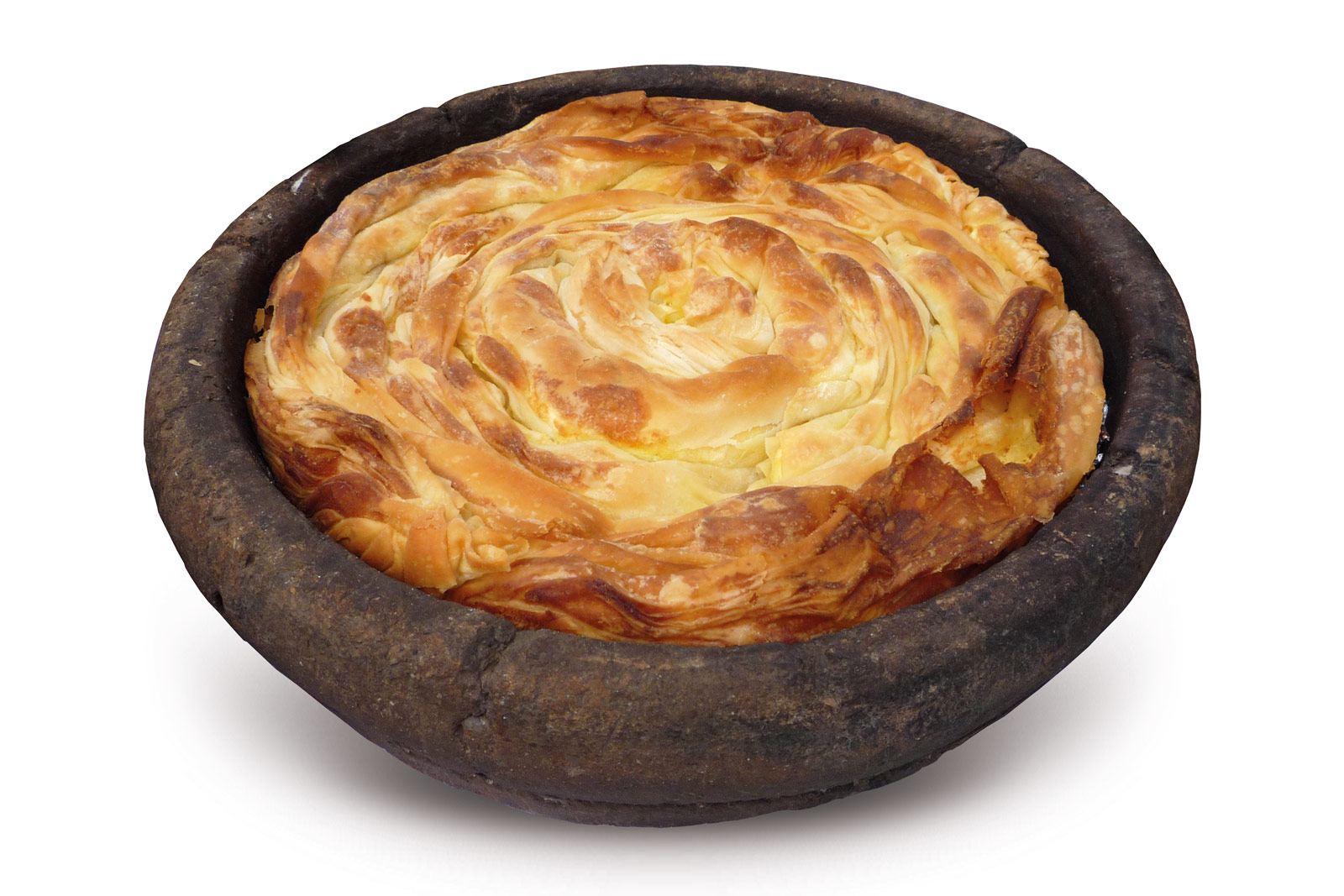 Western Serbia: tastes of pastures and orchards
Within living memory, cattle breeding has been the source of life in Western Serbia's prevalently mountain regions, so that milk, meat, mountain grains and fruit have been the basic ingredients people of this region used to create the original Serbian "highlanders' cuisine".
Mountain Breakfast: Maize Porridge, Prosciutto and Kaymak Milk Spread
Maize porridge is a favorite traditional dish, served today in a contemporary way and at exclusive hotels and ethno-restaurants throughout Western Serbia. Other delicatessens of this climate are also served – first of all beef prosciutto, kaymak and white cheese.
Flatbread of Užice
A simple dish prepared by filling flatbread with kaymak and an egg, which is then baked and topped with roast meat soak, is a gastronomic trademark of Užice. The unrepeatable taste of flatbread comes from fermented kaymak and roast meat "soak". It is prepared throughout Zlatibor region.
Buckwheat Pie
A "river of milk", used for real soft cow cheese of Zlatibor, flows from Zlatibor's healthy pastures. It is irreplaceable as refreshments and is the main ingredient of the tasty pie made of the flour of the mountain buckwheat grain.
Tobacco Cracklings of Valjevo
The delicatessen similar to the cheapest cut tobacco is produced by boiling and squeezing bacon for a long time to produce tobacco cracklings – the "golden threads" known as Serbian caviar.
Southwest cuisine
In this region of Serbia, the cultural layers of the Byzantine, Serbian Mediaeval and Ottoman Empires are interwoven, which reflects in gastronomy. Together with that, the region is extremely mountainous, so the table abounds in dairy products and forest fruits.
Kaymak Dairy Spread of Kraljevo
This region's cuisine is unimaginable without kaymak produced from milk fat – freshly skimmed – of mild, middle and strong fermentation, the last having a very strong taste. It is used in many dishes; one of the most famous is produced in Kraljevo.
Kebab of Novi Pazar
Novi Pazar takes pride in its Kebab restaurants. It's believed there that he who comes to the town, but doesn't have a kebab has wasted time coming to Novi Pazar. Kebabs are served in flatbread and eaten with yoghurt and sour milk.
Cheese of Sjenica
Pešter Plateau's gastronomical treasure includes diverse milk and meat products. Cow cheese from marinade – of the protected geographical origin – ranks the highest. Sjenica received EDEN competition's acknowledgement as a European exceptional gastronomical destination.
Coffee and Turkish Delight
A copper Turkish coffee-pot, a demi-tasse that coffee is drunk from, a sugar pot to sweeten it and a tray on which it's all served – this is an image of love and care given to coffee. To fully enjoy it, you're served "sweet small morsels" of Turskih delight, and brandy sometimes.
Gourmet food of the Serbian south-east and south
Niš, Leskovac, Vranje, Kuršumlija… – they are all centers of authentic cuisines, strong spices. Leskovac Valley is known for pepper production and two winegrowing hills – Topličko and Vlasotinačko. The menu is dominated by cooked dishes, barbecue and vegetables in abundance..
Gourmet delicacies of Niš
In Niš, people enjoy food. Lunch starts with hors-d'oeuvre, followed by broths and "gourmet" delicacies – lamb rolls, meat rolls in a vine leaf, bean on skillet, salads, barbecue…
Cheese Pie of Niš
The first börek cheese pie in Niš was made by a baker from Constantinople. Today, its preparation is made perfect. There are tens of bakeries competing for customer favors.
Barbecue and Stew of Leskovac
Leskovac is the destination for true gourmets, offering them the unforgettable culinary spectacle called "the train" – a "composition" of kebabs and burgers, white and smoked ramsteaks, skewer-grilled meat and doughnut-like fried dough balls… The "mućkalica" stew of Leskovac is also a highest-quality dish made of grilled meat and a lot of vegetables.
Stuffed Dry Peppers and "Samsa" Pie
The southern cuisine, especially that of Vranje, is an example of Balkan-Oriental gastronomy. There is particular demand for Güveç dishes and moussakas, stuffed dry peppers, sweet/hot pepper salads. Cheese and green vegetable pies are the pearls of the cuisine, the queen being "samsa" pie – without stuffing, only with chopped garlic, covered with sour milk.
Lamb Under the Glowing-Ember-Covered Lid
In the Toplica River Valley dishes are traditionally prepared "under the glowing-ember-covered baking lid". Vessels with massive "sač" lids covered with glowing embers are used for that. One needs to be quite skillful to prepare food in this way, but lamb or veal so prepared are of quite special tastes.
Soulfood of Eastern Serbia
The culinary tradition of Đerdap abounds in unique tastes of Serbian and Wallachian cuisines. The Danube was and is the source of food and life. Beside fish, vegetables and fruits are used a lot. The Mountains of Homolje are an untouched space, where some of the highest-quality ecological products originate from.
Fish and Wine 
The towns by the Danube have a unique culinary trait: fish specialties. In Smederevo, you should taste pike-perch as prepared in Smederevo, in Veliko Gradište – pike in marinade, in Golubac – carp… All around, highest-quality fish soups are prepared. Gold-yellow Smederevka is the most famous of all wines.
Food of Mountains of Homolje
Locust honey, sheep, goat and cow cheeses and plant brandies are produced in the healthy landscapes of Homolje. Homolje lamb is widely heard of.
Grilled Cheese
In the Đerdap territory, unique boiled non-melting, and therefore possible to grill, cow cheese of a magical taste is made. It can be tasted in Miroč mountain's villages and at some restaurants in Donji Milanovac.
Black Tamjanika Wine of Negotin
Negotin is the first capital of wine producing. Black Tamjanika is singled out from numerous sorts of wine. It's extremely strong, aromatic and sweet. Monastery of Bukovo is its best-known producer.
Sour Milk of Sokobanja Spa
Sour milk produced in Sokobanja Spa region is so solid that it can be cut with a knife. Sheep cheese and lamb of Ozren and Rtanj mountains are also known.
Milena Mihaljčić
Photos: National Tourism Organisation Of Serbia